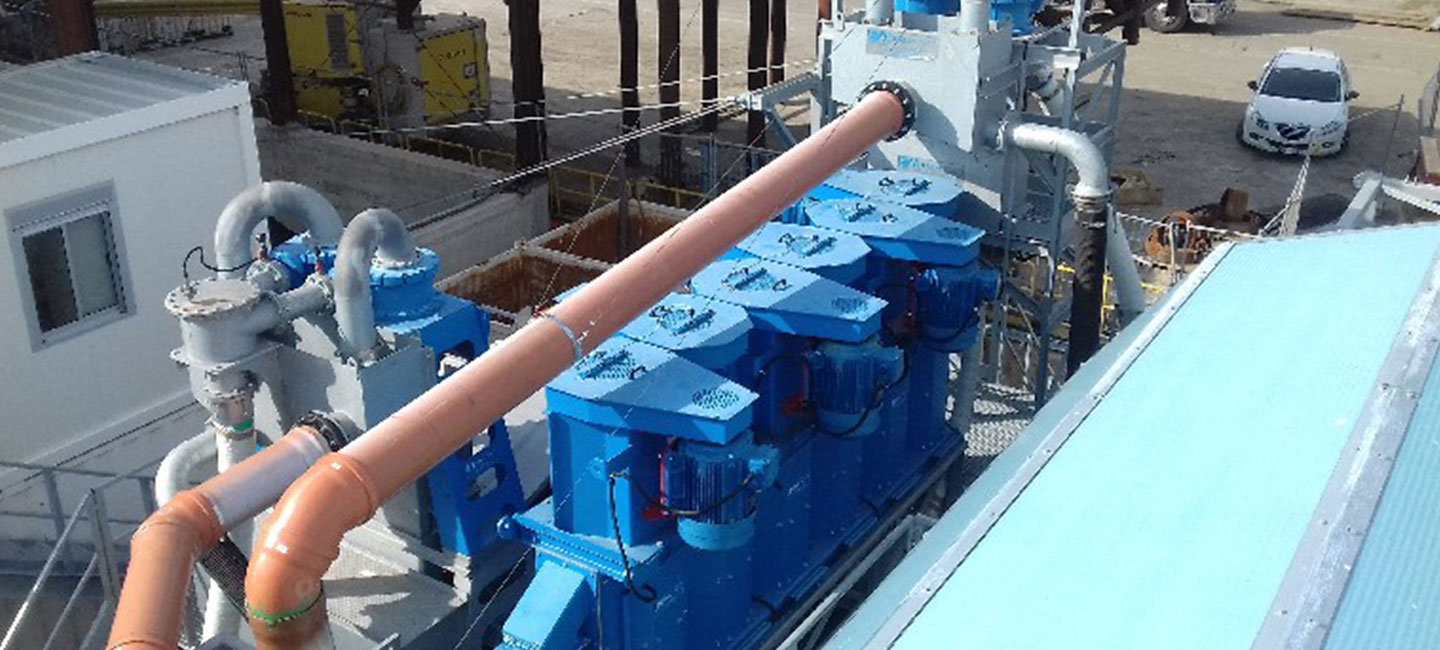 AGGREGATES TREATMENT EQUIPMENT
Attrition Cells
The attrition cells of B.S.I. Impianti are engineered following the decennial experience of the company, and in function of information coming from the application field; in this way, our customers have been able to appreciate the high strength construction, designed for durability without compromises, and the efficiency of the attrition profiles of the impellers specially shaped for maximum attrition performances.

By combining all components to the full urethane hot melting coating of parts (a unique characteristic of our design, which extend the longevity of the machine), and removable linings,the result is cells of attrition that are a synthesis of robustness and performance.
Gallery
Main construction specifications
- Structure
built by electro-welded steelwork, it is divided into several cells, connected in serie. Each cell is equipped, on the bottom, with a manual control shut-off valve (pneumatic, optional), with an anti-abrasive rubber sleeve, for quick discharge in case of needs. At the top, each cell is equipped with a lid, bolted to the machine body, that carrys the engine group for each cell. The body is equipped with loading hopper and unloading chute, with dedicated flanges; fittings for lifting, properly located, allow an easy positioning of the machine during transport and assembly.

- Motor package
The cells, inside which the material to be treated flows, are each equipped with their own drive unit consisting of motor, pulleys, drive belts, guard, gearbox (for machines serial ASC1----) a rotating shaft equipped with three impellers, correctlyu spaced, and shaft supports, complete with heavy duty bearings, grease-lubricated. The electric motors are also equipped with automatic tensioning support that guarantees the correct coupling between belts and pulleys, in every working condition.

- Rotating impellers assembly
Within each cell an attrition structure rotates, firmly attached to the rotating shaft; it consists of three impellers, placed at different heights, characterized by properly shaped (interchangeable) blades, that force the particles of the sand to be treated to an energetic friction, "sand on sand"; this action, combined with the correct residence time, guarantees the removal of organic contaminant and pollutants from the surface of sand grains.


- Wear resistant lining
a) attrition cells are full lined, internally, by wear resistant steel plates, interchangeable

b) edges and transit zones of the load hopers and the discharge chutes are lined by wear resistant rubber coatings, interchangeable

c) load hopers and the discharge chutes are lined by wear resistant rubber coatings

d) turbine Impellers are lined by urethane coating, hot vulcanized on the steel structure

e) main rotationg shaft, holding the impellers, is lined with hot vulcanized urethane coating


- Lubrication
grease

- Base frame
heavy duty and extremely ridgid


DATASHEET
ASK FOR INFORMATION
Thecnical Specifications
Cell volume
[ m3 ]
0.5 – 2.0
Cells number
n°
2 - 6
Total power
[ kW ]
37.0 – 120.0
Approx weight
(empty)
[ kg ]
3800 - 11000
Mentioned values are not mandatory and B.S.I. can modify that values for technical or commercial reasons, without any prior advise.
Optional
- Rotation control sensors for each of the motors
---
- On board, pre cabled, Joint Box to interconnect all onboard instrumentation
---
- Full electric control board and control system
---
- Automatic discharge valves one each cell module, air actuated, for an automated discharge control of the cells
Related Equipment