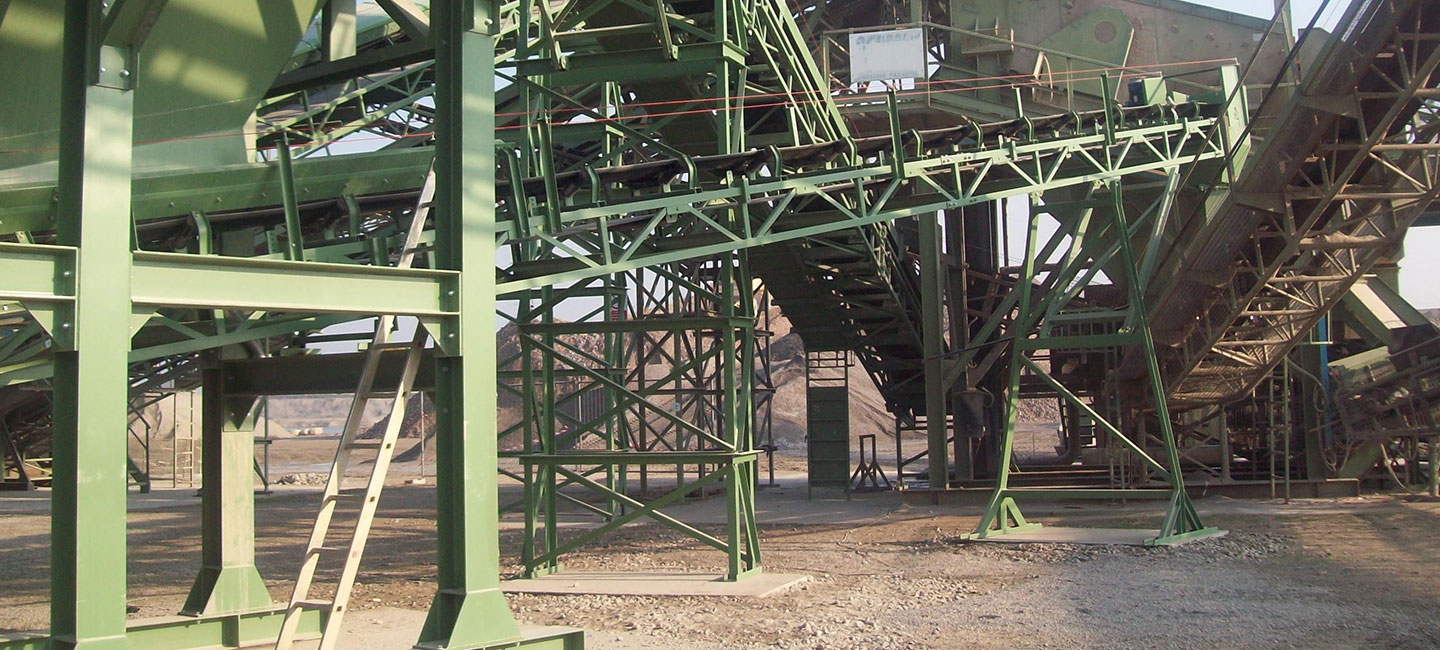 AGGREGATES TREATMENT EQUIPMENT
Belt conveyors S5 Series
with triangle beams sectoin
lattice structure
Built in modular execution, with side strutures and modular Travers, bolted together, in order to facilitate and optimize the freight, reducing cost.

Equipped with all the guards in compliance to the current regulations regarding safety at work, thanks to the ease of use and the reduced maintenance required, this conveyors the ideal devices for handling bulk materials.
Gallery
Main construction specifications
- Traction head
• shaft mounted gearbox, with reverse turning block, oil bath lubrication, directly coupled to the head pulley shaft
• head pulley, barrel profile and rubber lined (diamond lagging), assembled on bearings lodged into oversized berings housing; bloccked to the main shaft by two heavy duty shrink disks.

- Tail head and takeup
• load Hopper steelwork manufactured with 5mm thickness steel plate, integrated rubber lips, height adjustable
• barrel machined tail pulley. Assembled on heavy duty bearings and supports, blocked to the shaft with shrink disks
• belt takeup system: the tail pulley is assembled on a sliding system drived by an endless screw and a bronze pinion with trapezoid tread (for a great resistance force without any chance of getting loose). It allow a regulation of about 500mm.


- Idler and rollers
integrating sealed for life rollers (two or three depending on the belt width), with a structure built by metal sheet supports welded on a C shaped main beam. Heavy duty constructions available, with thickner metal sheet and U shaped beams.

- Rubber Belt
all resistence classes available, selecten depending on the application.

- Belt scraper
• urethane X section scraper, with Rosta elastomer tensioning system
• Delta scraper on the tail head, specifically designe with tail pulley protection lips to avoid any rock intrusion on the ineer side of the belt
ASK FOR INFORMATION
Thecnical Specifications
(°) with 18° working incline
| | | | |
| --- | --- | --- | --- |
| | Belt maximum width | [ mm ] | 500 - 1200 |
| | Maximum length (°) | [ m ] | 50 - 10 |
| | Rated working speed | [ m/s ] | 1.2 - 1.5 |
| | Maximum capacity (°) | [ t/h ] | 100 - 500 |
| | Inastalled Power | [ kW ] | 3.0 – 9.2 |
Optional
- independent sections, carbide blades , scraper. Tension of ach blade section is controlled by a dedicated rubber spring that absorbes vibrations and shocks and maintein the correct pressure on the belt.
---
- side containing guards, modular, with integrated rubber lip and adjustable in both height and width, to better adapt to any aplication needs.
---
- dust and rain covers available, different solutions have been engineered as a funcion of differnt application needs
---
- discharge hopper with standard or custom design
---
- supports engineered on project basis
---
- proximity swithch to detect belt rotation, speed meter, in line scales
Related Equipment